Talent
Abundant Human Resources
The population of New Taipei City is approaching 4 million, 76% of which are of working age. They are our most valuable assets. In 2010, the average workforce of the City totaled 1.895 million, making up one-sixth of the national total. Over 43% of the workforce has at least a university-level education. New Taipei City's young and well-educated workforce provides businesses with an ideal condition for growth and future development.
Wealth of Educational Resources
There are over 150,000 students in 18 universities photo of universities students throughout New Taipei City. The city is also home to 17 vocational schools. These institutions of higher education provide industries with opportunities to recruit high-quality personnel though training programs, and also help businesses improve their management, R&D and innovation standards.
Concentration of Talent
New Taipei City is a very open and international city that boasts pioneering industries and a diverse marketplace. This dynamic environment allows business and academic communities to remain on the cutting edge of new trends, and fosters sustained business growth. At the same time, convenient amenities and transportation make New Taipei City an attractive place for working and living, for talented people from throughout Taiwan and around the world.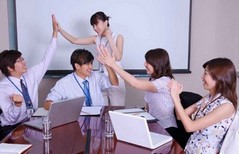 Integration of Industry and Universities
There are 11 innovation incubator centers amongst Newphoto of universities students Taipei City's universities. These centers bring together practical business experience, and cutting-edge academic research to formulate strategies for industry development in fields such as technology, management, culture and creativity, information technology, biotechnology, medicine and tourism. Cooperation programs between industries and universities create new value for local businesses, and enhance their competitiveness.
Quality Workers and Employment Opportunities
New Taipei City has the largest workforce in Taiwan. High quality workers and clear avenues of employment are essential for stabilizing manpower and industry development. To this end, New Taipei City offers various professional training programs and skill certification examinations to improve the quality and capability of the workforce. The city also provides employment services and recruiting activities to boost employment, and helps businesses find the right people for their specific needs.