Commerce
Perfect Testing Ground
New Taipei City's active commercial, industrial and consumer sectors are the perfect testing ground for new products due to its diverse consumers, who possess characteristics of both Eastern and Western consumer behavior, and have a high acceptance to both traditional style and creative new products. Businesses in the area are able to acquire quick market feedback, and suggestions that can help them enter international markets with more ease.
Investing in Commercial Development
By investing in commercial development, New Taipei City is constantly creating new opportunities for businesses. Examples include the introduction of shopping, leisure and recreation facilities in the New Banqiao Special District, and the development of new business districts in Linkou, Shulin and Tamsui. Crowds drawn to these areas provide businesses with more opportunities to bring their innovative products and services directly to consumers.
Upgrade and Transform Industries
Since 2009, New Taipei City has organized workshops and exhibitions to help businesses improve their corporate governance and management skills. Professional assistance and advice are also provided, along with subsidies for innovative R&D by small- and medium-sized enterprises and micro-enterprises. In addition, factories with unique production histories and cultures have been encouraged to combine their resources with the creative and tourism industries to become accredited tourism factories, an initiative which has injected new life into old factories.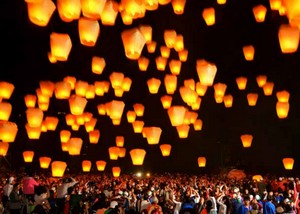 Creating Specialty Commercial Areas
Clustering effects can be strengthened by creating commercial area which attracts consumers and tourists. Historic and cultural centers, such as Ruifang Township's Jiufen Old Street, Yingge Ceramics Old Street, Sanxia Township's Minquan Old Street, Luzhou City's Temple Front, and Xinzhuang City's Temple Street, are all well-known commercial area in New Taipei City. The city government promotes local commercial development by providing infrastructure and technical assistance, training, and marketing campaigns tailored to the unique needs of each commercial area.
Tourism
New Taipei City boasts a wealth of travel destinations and resources. Record numbers of local and foreign travelers have visited the area in recent years. With 27.66 million recorded visits in 2010, New Taipei City was the second-most visited city in Taiwan. In the future, natural and cultural tourist attractions will be linked with community and local cultural industries to provide visitors with friendly and quality travel services. New Taipei City is on the way to establishing itself as a most attractive tourist destination.