City News
Date : 2022-08-26
Source : New Taipei City Government
A New Paradigm for City Diplomacy: 2022 New Taipei Appreciation Tour in Tamsui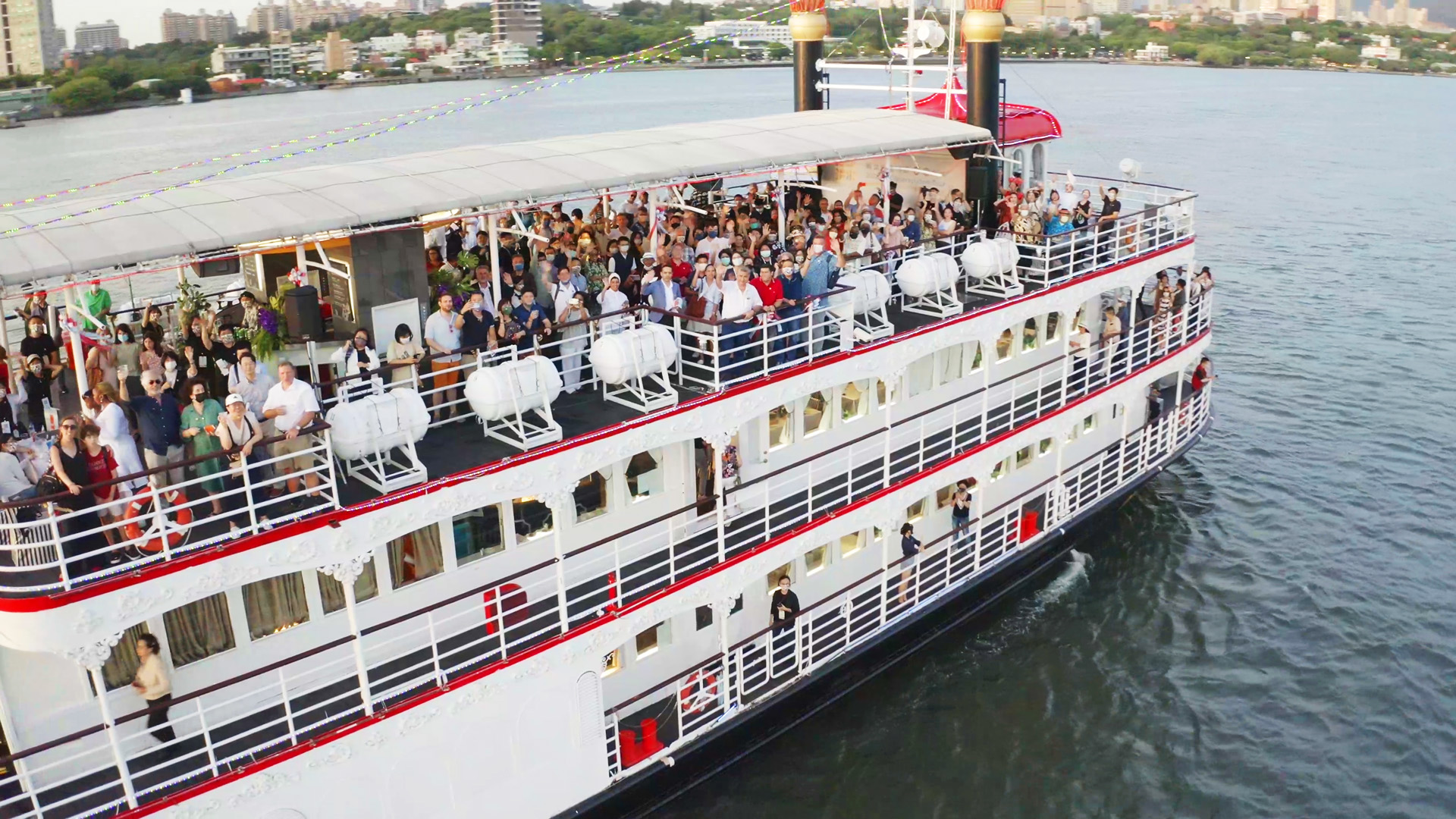 For the 2022 New Taipei Appreciation Tour, which was held on August 21, New Taipei City Government invited envoys to board the vessel Great River Queen and enjoy views of the mountains and sea along the blue Tamsui River. Near 200 envoys from 34 countries across five continents, including 20 ambassadors and representatives to Taiwan and five presidents of foreign chambers of commerce, attended the tour to support New Taipei City, setting a record for the highest number of participating envoys since Mayor Hou Yu-ih took office.
Mayor Hou said that the New Taipei City Government team has endeavored to turn New Taipei City into an international city where people can live and work happily. He expressed his intention to make New Taipei City citizens proud and help foreigners to appreciate the human-centered city. On that Sunday afternoon, numerous envoys in Taiwan attended the event with their families and expressed their opinions about the impressive livability of New Taipei City. The event was cohosted with the Netherland Office Taipei, Canadian Trade Office in Taipei, and British Chamber of Commerce in Taipei, all of which are connected to the history of Tamsui.
New Taipei City's diplomatic strategies are substantive and action-oriented. Events based on governance results are hosted to promote New Taipei City's governance internationally. Before the implementation of urban renewal, a reception was hosted at the mayor's official residence; Yingge Ceramics Museum also showcased its cultural creation capacity by holding its first fashion show. This year, a ferry tour was hosted with envoys for the first time. During the tour, attendees witnessed first-hand the results of the city's urban governance and 2030 vision while traveling along Route 2 Taiwan and coastal Tamsui.
The foreign guests included H.E. Ambassador Huggins, Dr. Pitts of Belize, Ambassador Paeniu of Tuvalu, and Ambassador Edwards of the Marshall Islands, which shares a sister city with New Taipei City. Taipei-based representatives and deputy representatives from the United States, Japan, the Netherlands, Singapore, Thailand, Vietnam, India, Poland, Germany, Switzerland, Nigeria, Saudi Arabia, Somaliland, South Africa, Argentina, Peru, and Papua New Guinea were also among the guests, along with the presidents of the chambers of commerce of the United States, Canada, Sweden, France, New Zealand, and Australia. The attendance of these representatives is a testament to the strong international friendships established by Mayor Hou.
Mayor Hou said that he visited Northern Europe and three Southeast Asian countries before the COVID-19 pandemic and gradually incorporated the governance-related insights that he obtained from these visits into the municipal governance of New Taipei City. When he saw numerous representatives from other countries gathering in Tamsui, he acted as a tour guide and discussed several ongoing riverbank construction projects that were ongoing. Additionally, he shared with the guests his municipal governance achievements and his future vision for the city. For example, North Tamsui Road, Danhai LRT, and Danjiang Bridge, both of which are nearing completion, will substantially improve the quality of living of Tamsui residents.
The mayor also proudly introduced the Tamsui Fisherman's Wharf renovation project, feature age-inclusive parks, the FAB Green Village, and the Shalun Smart Green Energy Science City, all of which provide a diversity of recreational and entertainment options for residents. He did not miss the opportunity to promote the 2030 Net Zero Carbon Demonstration Zone of Bali, which demonstrates New Taipei City Government's commitment to environmental sustainability; Route 2 Taiwan, a tourist brand of New Taipei City; and the Ocean Music Festival, a youth-oriented event. Mayor Hou looked forward to transforming the Bali District of Tamsui through the planned establishment of a smart logistics center, and he expressed his hope that the New Year's Eve firework festival at Danjiang Bridge will continue to maintain its status as a world-class urban firework festival.
Mayor Hou also thanked the attending envoys for their lasting support and affirmation. He stressed that New Taipei City must align itself with international trends to become a new paradigm for city diplomacy and that it must meet various SDGs to attain international standards for sustainability. During the COVID-19 pandemic, New Taipei City donated pandemic prevention supplies to various international cities. In response to the imposition of border controls during the pandemic, all in-person exchanges were replaced with online exchanges, through which New Taipei City has interacted with nearly 300 international cities. New Taipei City has always emphasized international city exchanges and marketing. By conducting substantive city exchanges and actively promoting its municipal governance experience through cross-department collaboration, New Taipei City is expected to expand its international reputation.
Director-General Yao Ching-yu said that the tour event received enthusiastic feedback and broke the event record for the highest number of guests with nearly 200 attending foreign guests. These guests included those who specialized in domestic and foreign affairs, such as former Ambassador Extraordinary and Plenipotentiary to the Holy See Larry Wang and several international affairs scholars from National Chengchi University and Tamkang University.
Deputy Mayor Chen Chwen-jing and his wife, Director-General Chung Ming-shi of the Transportation Department, Commissioner Wen Lee of the Agriculture Department, Senior Executive Wu Hsiu-tzu of the Cultural Affairs Department, Curator Huang Li-ling of the Tamsui Historical Museum, and District Mayor Wu Zong-ren of Tamsui also engaged in exchanges with the envoys on urban governance, thereby demonstrating New Taipei City Government's commitment to international affairs.
This year, New Taipei City Government launched its bilingual newsletter and website (
https://sdgs.ntpc.gov.tw
) and a novel environmental, social, and governance initiative platform to promote the city's international relationships on the basis of the spirit of the SDGs. These platforms are designed to help transform the city into a new paradigm for city diplomacy, demonstrate the sustainability and international reach of the city, and promote the city internationally through practical means.
Director-General Yao indicated that this event, which was held to market New Taipei City's fabulous culture and landscape, was timed to coincide with the 160th anniversary of the opening of Tamsui Port and the 150th anniversary of Mackay's visit in Taiwan hosted by Cultural Affairs Department. Representative Tielman of the Netherland Office Taipei praised the beauty of Tamsui's landscape with poetry; a local performance by Sun Son Theatre and an exotic music performance by DJ Elvis Lin also reflected Mayor Hou's support for multicultural arts groups. A dinner party was hosted at Merci, a famous restaurant in Banqiao. Foreign dishes were prepared using local ingredients from New Taipei City including French bread with beaded scallions from Pingxi, Shengkeng tofu with avocado, Gongliao gracilaria with scallops, Wangli crab hamburgers, and Tamsui iron eggs with popping cheese balls.
The Netherland Office Taipei, British Chamber of Commerce in Taipei, and Canadian Trade Office in Taipei were also sponsors, supplying beverage products for the event. The decorations for the event, which integrated mountain and river imagery through greenery, were provided by the internationally renowned CN Flower. After the event, the plants could be reused as houseplants, demonstrating the environmental sustainability of the event.