City News
Date : 2017-03-22
Source : New Taipei City Government
Race Starts! 2017 Wan Jin Shi Marathon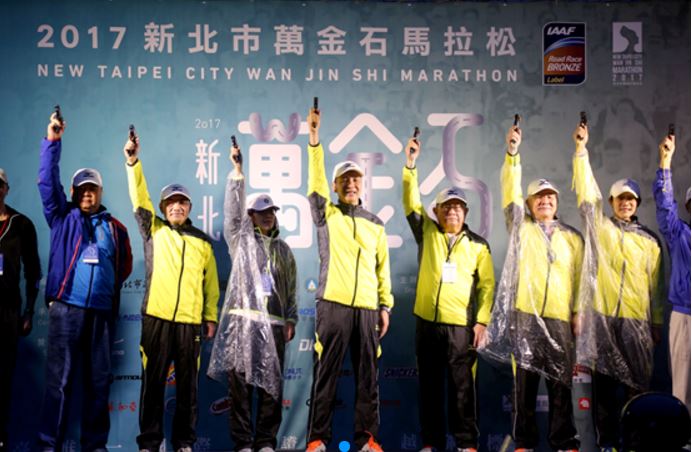 The road race, 2017 Wan Jin Shi Marathon, which is seeking the recognition of IAAF Silver Label, started on 19 March after Mayor Chu pulled the trigger. Despite the bad weather, 32 famous international and domestic marathoners gathered here in Wanli District in hopes of breaking world records.
In Mayor Chu's remarks, he first welcomed 12 thousand runners who participated in the event, and referred to the Marathon as the nationwide honor for it has been awarded the Bronze Label in 3 consecutive years. Hopefully, the Marathon will be upgraded to the Silver Label next year, he said.
Even though the weather was not pleasant, some athletes told Mayor Chu that rain did not dampen their spirit at all. On the contrary, it inspired them to go faster and further. The Mayor continued to encourage anyone who is interested in sports to attend the event since the road race does not only include marathon, but also 14 KM Challenge Run and 7 KM Fun Run, and at the same time, to discover the beauty of the Northern coast.
Mayor Chu, Mr. Thomas C.W. Tsai, President of Chinese Taipei Athletics Association and Tracy Sundlun from IAAF fired the starting shot for the marathon race together with 32 international and domestic athletes who aimed to break world records. In addition to many aids station along the course, the local residents also expressed their excitement and support for the event by providing drinks and food to the runners, showing the friendly and amiable nature of Taiwanese people.