Infrastructure
Convenient Transportation System
New Taipei City is a vital transportation artery where important land, sea, and air transportation systems to and from neighboring areas converge. Home to a wide array of industrial and business activities, New Taipei City's position as a transportation hub provides companies with quick access to supply chains and markets. In addition, it has innovative and up-to-date services, giving businesses the advantage of optimal operational exibility. The system includes:
Land:Taiwan High Speed Rail, Taiwan Railway, Freeway No. 1 & No. 3, Expressway No. 64
Sea:Keelung Port, Taipei Port
Air:Taiwan Taoyuan International Airport, Taipei Songshan Airport
Functional Mass Transit Network
The Taipei Mass Rapid Transit Network's "3 Rings & 3 Lines", combined with shuttle buses and taxis, once completed will make doing business in New Taipei City safe, comfortable, and speedy. It will definitely lead to more e cient business operations in the area. The 3 Rings & 3 Lines include:
First Ring: Wenshan-Neihu Line, Circular Line (Phase 1), Circular Line (North and South Sections)
Second Ring: Wanda-Zhonghe-Shulin Line, Xinzhuang Line
Third Ring: Bannan Line, Taiwan Taoyuan International Airport Access MRT System, Tucheng Extension to Dingpu, Sanying Line
Three Lines: The Danshui(Tamsui) LRT, Ankeng Line, Xizhi-Minsheng Line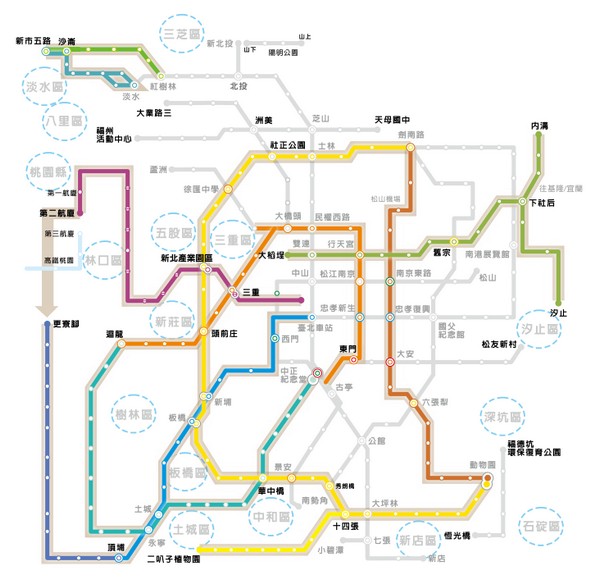 "Golden Corridor" Industry Cluster
New Taipei City is located at the heart of the so-called "Golden Corridor", an A-shaped industry belt, formed by Freeway No. 1 & No. 3, and Expressway No. 64. The "Golden Corridor" integrates multiple industrial areas and includes a free trade port zone, a science park, a knowledge park, and a communications park. In addition, efforts are being made to attract more knowledge- and research-based industries in order to increase the scope and effectiveness of the "Golden Corridor's" industry cluster.

The objective of the "Golden Corridor" project is to acquire industrial resources provided by the central government, integrate existing spaces and land development projects, and increase the value of companies through the project's industry guidance policies. In addition, the "Golden Corridor" will integrate business districts to create an urban environment, establish a free trade port zone by making use of International air and sea ports in neighboring areas, and create an environment conducive to multinational business operations. Through these measures, the "Golden Corridor Project" will double current investment, consumption, and employment in the area.
Comprehensive Business Facilities
Within the one-hour living perimeter of Greater Taipei, New Taipei City offers a complete range of facilities for banking, technology, business, tourism, leisure and more. It will continue to promote the development of tourist hotels, department stores, parks, and green spaces. In addition, New Taipei City is working to construct an extensive mobile and electronic network, and is working to raise the standard of smart services in order to help companies in the region maximize their business opportunities.
Residential Environment
With an emphasis on ecology, environmental friendliness, and low carbon emissions, New Taipei City has constructed waterfront spaces, green belts, mountain trails, and bikeways to create a high-quality and accessible living environment for its residents. It has become a new waterfront city that is suitable for both work and play. While the congenial urban environment enables businesses to transform and grow, it also provides their families with a comfortable and convenient residential environment.