Healthy and Safe Living
How Potlucks Make Seniors Healthy and Happy: New Taipei Is Ready for Aging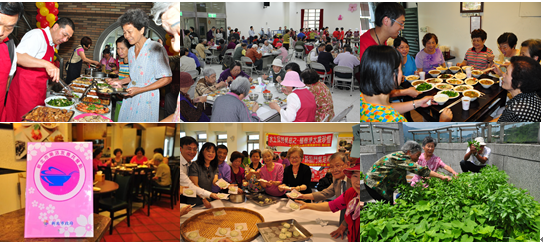 We all grow old. Who will take care of us when our hair turns grey? In New Taipei City, 11% of the City's 3.9 million citizens are aged 65 and older, marking the City between "aging" and "aged" society according to the UN's definition. Aging is a triumph of development. However, an aging society also poses social and economic challenges. Facing the structural changes in the population, the Government realized that making sure aging issues are integrated into city development programs is at the forefront. The variety of programs includes "Meal Sharing for Seniors," "Senior Clubs," "Adult Day Care Centre," "Long-term Care Service 2.0," "Fit for Age," and so on. They all serve the same purpose – making the senior adults' lives easier, healthier, safer, and happier.
New Taipei City residents aged 65 and older are encouraged to join the congregate dining program. The core spirits are "self-motivated, self-paid, and self-reliant." The service is not compulsory. It aims to incentivize the elderly to take part in the service regularly, and to care for each other actively. Meals are not free but variants make up for it, such as potluck, share your farm food, eat in an appointed elderly's home, lunches provided by schools or religious groups, etc.
Most of those lunch spots are located in the district chiefs' offices, community development associations, community senior learning centers, local elderly-friendly restaurants, police stations, etc., where the aged citizens have easy access to, providing a second home for them. By the end of 2016, there were 841 spots established in New Taipei City's 29 districts.
"Because of the Meal-Sharing Program for Seniors, we made many new friends. We also became healthier and more energetic. It's all thanks to the nutritious food and the routine exercises before lunches." The old couple Mr. and Mrs. Su said. The 85-year-old grandma, Mrs. Lai, also agreed with this creative policy for the silver generation. Although her family prepares meals for her, no one is there at home at lunchtime. "Lunch tastes better when you eat 'together.'" she said.
There were more than 1.5 million times of participation of the elderly in the congregate meal program in 2016. In another word, it means every senior adult in New Taipei has ever engaged in the service at least 3~4 times in average. It is a big improvement compared to the past few years when the program just started in 2013.
The program benefits the aged citizens psychologically and physically. It allows them to meet people at similar ages, and increase their social interactions. It also encourages them to go outdoors and involve in community events such as festive celebrations or handicraft courses, adding more fun to their lives.
When the elder citizens are willing to go out of homes, they are more likely to get involved in cognitive, medical, and fitness related programs arranged by the government (e.g. Senior Citizens Learning Center, Long-term Care Service, Fit for Age). The lunch program has built a foundation of creating New Taipei a senior-friendly city.
Don't think the Government only favors the old party, the young counterparts also benefit from the senior-based policies. The longer people can remain mobile and care for themselves, the lower are the costs for long-term care to families and society. The policies have indeed helped ease the burden on the youth. In addition, people age as a matter of course. What the older generation is experiencing today will be the future of the younger one. Thus the younger adults can plan ahead and be prepared for aging. It's also a key factor of strengthening social stability.
Who will you depend on when you grow old? In New Taipei City, you can depend on yourself and enjoy a happy life in your old age.